10% Discount for Nonprofit Organizations.
Having built sites for over 15 years we found out that websites for nonprofit organizations have different requirements. Not many nonprofit organizations are willing to invest into ongoing technical support for thewir websites – so we included them in our already low pricing:
Our Managed Hosting setup makes sure that websites for nonprofit organizations never have to encounter technical questions. If you prefer to edit your website yourself, we even train your staff to do so and set appropriate permissions.
Nonprofit websites should be scalable and expandable. We make sure your site is fast, findable, and always available due to our uptime monitor system.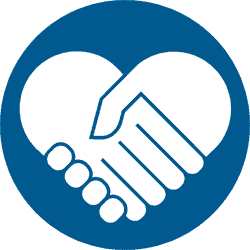 How we create websites for nonprofit organisations
Because we offer website development on a fixed per page basis, we have created an effective procedure that allows us to charge less while providing exceptional service.
We will first need access to your existing installation and will export the content for you to edit and review. Since being found is essential for your success, we will provide you with important search terms that should be included in your texts.
Parallell to that, together with you we develop a design for homepage and subsequent pages that may be adjusted for the several dfferent aspects of your nonprofit organisation.
We typically recommend extenal Donation software that is hosted by a payment provider. We will implement those forms and links for free.